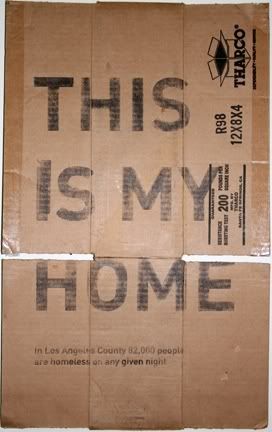 I
t was over five years ago when I first started doing Fundraising events for Breast Cancer. I am so AMAZED and thankful that it has received so much press. So many people have stepped up to support it. It seems you can't go anywhere now, without seeing the PINK ribbon/logo on our products, the NFL wearing pink, and Celebrities showing their support. It IS such a huge blessing.
My prayer is that, we will eventually have that same support for the homeless living on our streets, in America. This year has been tough, with rising unemployment and rising utility prices. More people than ever are being forced out of their homes and onto the streets.
I can sit here and give you all the statistics. I can tell you how many people are living on our streets, their background, or post pictures of them. But I think ,we have somewhat turned a BLIND eye to it. Maybe we are just desensitized to it all and therefore it doesn't bother us anymore?!
Most of us spend more money on a cup of coffee, than what it would cost us to buy a child (living on the streets), a Happy Meal from McDonald's. I have fasted food many times in my life and I can't believe what 24 hours, without food does to your body and mind. It is almost impossible to function.
It's so sad to hear their stories of what forced them, out onto the streets. It breaks my heart when I hear a child say, that they are hungry.
With the holiday's upon us, I can't stop thinking about these kids. I can't imagine what their parents are going through, not being able to feed their children. I can't stop thinking about ALL of those that are living on our streets... cold, lost, and hungry.
I am so thankful for the Rock Stars and Celebrities that are a VOICE for our homeless and speak out on their behalf. I am also thankful ,for all of the people that volunteer, donate, and do whatever they can to help.
But, how do we get the rest of America to pull together and take care of our neighbors, our grandparents, our mothers, our fathers, our brothers, our sisters, our veterans and our children... living on OUR streets?
Can we get a Homeless Awareness Day, Week or Month?
I feel FRUSTRATED, because I don't know what to do?
I know the lines will be longer than ever this holiday season, for those in need of a warm meal. I pray that no one will be turned away!
What will it take, for us to show them that we care? To stand in unity and fight for OUR homeless, Americans?
What color do their houses need to be... to get OUR attention???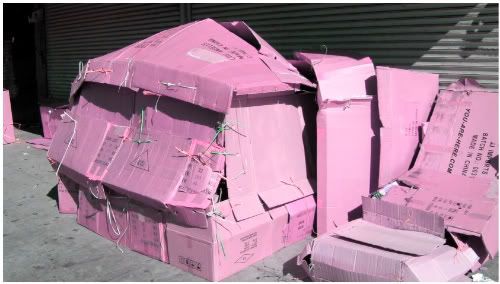 PLEASE GIVE TO OUR HOMELESS THIS HOLIDAY SEASON!
John Mellancamp ~ Pink Houses